Charlotte Whitestone – Acupuncture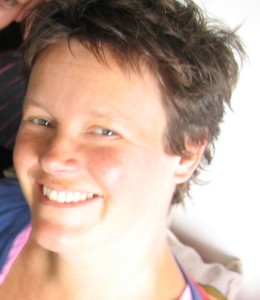 For my whole adult life I have studied Chinese energetics, starting with Chi Gong, Nei Gong and Tai Chi, then acupuncture and tuina massage.
I received a first-class Honours degree in Acupuncture from the College of Integrated Chinese Medicine in Reading in 2006.
In 2007, I founded ACMAC (www.acmac.net), which aims to promote multibed acupuncture practice. In a multibed clinic several patients are treated together in a large space, meaning that treatments can be offered at reduced price.
In my private practice I serve patients in Uckfield, Brighton and Hove, and in patients' homes.
I am passionate about having all of our community be able to access high-quality treatment often enough, and for long enough, to get better and stay better.
Happily, my fascination with Chinese energetics took me to California in 2003 to train to become a chi-gung teacher, where I met Nate (who calls me Charlie), with whom I am happy to be walking this path of life.
I have lived in Uckfield with my family for 8 years. I love acupuncture, gardening, walking our dog, and watching our two beautiful young sons grow and develop.
Nathaniel Whitestone (Nate) – Coaching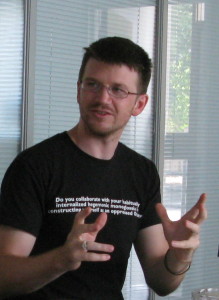 Throughout my twenties I worked with the Ecovillage Network of the Americas, ran a socially responsible investing business, and trained in personal development and transformation — first with Diamond and River Jameson, then with my mentors Gay and Kathlyn Hendricks.
In my thirties I ran a coaching business, brought Sociocracy to the UK, provided business and governance consultancy to co-ops, and practiced developing a great relationship with Charlie while working and raising kids.
Now I develop thriving human systems — healthy working communities, great teams, and happy, powerful, transformational leaders.  From game design for businesses, to management and governance frameworks, to masterful facilitation and coaching, I reliably open the door to effective creativity.
I enjoy science fiction, martial arts, role playing games, and playing with my family.
I am passionate about serving the Great Transition to a society where the key strategic asset is the ability to collaborate and the true definition of wealth is wellbeing.
Nate & Charlie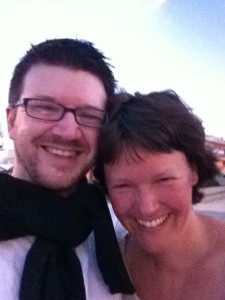 We met in California in 2003 at a Chi Gung Instructors' Training. Nate followed Charlie back to England. We married in 2005, and we have two beloved boys. We aim to practice what we preach, and our life partnership relies on the core practices of embodied integrity and conscious relationship.